The Library as a Place: Tradition and Evolution
Is the library, as a physical entity on academic campuses, passé? Is it becoming redundant in today's electronic environment? It might be tempting to wish that this were so, from a budgetary perspective. It is indeed expensive to maintain physical libraries, which constitute anywhere from 3 to 6 percent of an institution's budget. A recent article in The Chronicle of Higher Education, entitled "The Deserted Library," implies that electronic services are making actual libraries redundant, and that libraries, desperate for traffic, are resorting to gimmicks such as coffee bars to boost attendance, "as students work online, [and] reading rooms empty out. This article sensationalizes and generalizes anecdotal information from a handful of libraries, so it could hardly be considered a definitive study of the issue, and many librarians have been quick to point out that their figures do not bear out the article's contentions. Considering how intently librarians have attempted to drive services out of their libraries in order to make them more readily accessible online, in people's homes and offices, it would be remarkable if foot traffic were not down in the most electronically accessible libraries. Nevertheless, further anecdotal evidence suggests that many libraries are experiencing as much in-person use as ever, despite electronic reserves, submission of reference questions online, and external availability of the full text of thousands of journal titles.
Article Makes us Focus on Real Questions
To some librarians, this CHE article is reminiscent of the damagingly misleading IBM television advertisement of several years ago, in which an Italian farmer asserted to his doubting grandson that he was doing his doctorate in Music without the need of a library because he could use Indiana University's library, which was completely electronic (turns out the skeptical grandson was really the smart one). Nevertheless, this article perhaps does a service by focusing attention on some key questions: What is the real value of physical libraries today? What should we use as measures of success for libraries today? Are gate counts and circulation figures the ultimate measure of success (and were they ever?), or should we be more interested in what happens while people are in libraries (or out of them, for that matter, but still using their services)?
The Chronicle article makes much of the fact that many academic libraries are adding coffee services of one kind or another within their buildings, to emulate Barnes and Noble and other book superstores. Libraries, by their nature conservative institutions, have indeed been influenced by the success of the superstores, even as such stores themselves have been emulators of libraries, using "wood fixtures and comfortable chairs. . .meant to invoke an 'old-world library' feel," according to a Barnes and Noble annual report.3 Book superstores have shown us that there is nothing necessarily incompatible with drinking coffee and reading books simultaneously, and we are absorbing that lesson. But we must not confuse the purpose of bookstores with the purpose of academic libraries, which is to provide and preserve knowledge for those studying and creating new knowledge, as well as to facilitate the study and research of students and faculty. This mission entails some important long-term responsibilities, which only libraries can carry out. These responsibilities include storage and preservation, as well as the proactive work involved in actualizing access to the body of knowledge, both traditional and electronic, which can be so difficult for the average person to navigate without help.
The fact is that while libraries and library use patterns are certainly evolving, the death of physical libraries, like the deaths of Mark Twain and of printed materials, is greatly exaggerated:
Students are in fact demanding increased library hours and services, including services which may originate within libraries but which are experienced outside the building's walls.
The electronic resources so prized by distance library users are provided for them, without charge (to them), by people working in their libraries.
The books they want, even if they are out of print and not owned by their own library, are acquired for them by staff working in their library.
The instruction they need to find information, both free and proprietary, in person or online, is provided by the staff of their libraries, even when it is available to them electronically from a distance.
The walls of library buildings are still there, but they are now more like permeable cell walls, with resources flowing in and out on a constant basis. To continue the metaphor, academic libraries continue to be living, growing, and evolving institutions.
Library Buildings: The Hub of Campus Information Resources
Colleges and universities, both large and small, are continuing to build new library buildings of substantial size and cost, and expand older buildings, as expressions of the core values of the institution. Princeton University, for instance, is currently adding a $60 million science library. People are voting with their feet, and with their pocketbooks, to retain and revitalize their libraries, making them not only as relevant in the electronic age as they were in the pre-electronic era, but even more relevant, serving as the hub of all information accessibility. In today's libraries, one will be likely to find not only books, articles, microforms, government documents, and journals, but also GIS information, instruction in the use of software packages, digital copies of rare books, and a wealth of other electronic information, which has probably cost between 30 to 50 percent of the library's annual materials budget.
Learning spaces are also changing, with an emphasis on options for group study, and integration of technology into learning. This is true at both small undergraduate and large research institutions. Typical of this trend is Christopher Newport College, which is now planning a $16-million library, including a TV studio and an all-night study floor, for a college of 500 students. Even Nova University, the archetype of the distance-learning institution that eschewed traditional libraries, recently completed a $45-million library building, in conjunction with the local public library, including facilities such as children's rooms along with advanced computer labs. Larger institutions are regularly building new libraries in the $30 to $50 million range. There is every indication that physical libraries are here to stay for the foreseeable future, for a wide variety of reasons.
The Myth That Libraries are Pass
Where did the idea arise that libraries would no longer be necessary in the "information age"? To a certain extent, there is always a certain amount of wish-fulfillment built into futurism. People passionately wished that the all-electronic age would arrive, so they simply announced that it had; however, reality did not match their wishes. Every day now brings news of electronic book publishing ventures being closed down. The vast majority of valuable published scholarly information exists only in print. This will be true for the foreseeable future, though electronic information has undeniable value.
Perhaps the idea that all we need is electronic has been fostered by distance-learning-based institutions and electronic course services which purvey instant electronic "libraries," which they would have you believe are all that a student would need. In some circumstances that may well be true given the circumscribed nature of what their courses are, and what they ask their students to do. Then again, they have to make a virtue of necessity because they have no physical libraries of which to speak. Librarians at traditional institutions can tell you that the limited electronic resources such institutions or services offer are dwarfed by the electronic resources that traditional libraries already have. The students of the distance-learning institutions are often found working and studying in the traditional libraries, both for their atmosphere and for their greater range of resources.

If libraries did not exist, most respectable institutions would have to invent them, which is exactly what has happened in recent years at several newly established universities such as CSU-Monterey Bay, Florida Gulf Coast University, and others which grandly announced, at an early stage, that they would open with a fully electronic library, but no books. Such plans soon succumbed to the reality that only a small fraction of what exists is online, that no online collection alone could possibly support the range of programs being offered to students, much less support faculty research and the creation of new knowledge. Each of these institutions has in fact opened, after some rethinking and minus the hoopla, with a traditional library (including all of the electronic resources that traditional libraries now offer).
Why is a physical library necessary? We might as well ask the question "why is a physical campus necessary?" If the answer is "it is not necessary," then so be it; let's just award people degrees for watching the Discovery Channel. However, most of us would acknowledge that the kind of education most students would receive in such a situation is not optimal. Most students benefit from the environment and contacts with their peers and instructors that they have on physical campuses. Just as we now see distance education as a sometimes necessary but usually not ideal form of education, so we also see distance library use as a supplement, and a convenience, sometimes a great convenience, but not really a substitute for access to the full panoply of resources and services that only a great library, with a great staff, can offer.
Traditional Needs
What are some of the other ways that libraries are important as physical places? We should, first of all, not forget about the traditional functions, such as storage and preservation. The need for in-depth retention of research materials differs by institution, of course, and universities will need more than institutions that concentrate solely on undergraduate teaching. Even at such institutions, however, people doing serious research inevitably turn to libraries with comprehensive collections. Conversely, when a library's physical collections are too small, users typically discount the likelihood of finding anything in that library, and decide not even to try, opting instead to use a larger facility. Furthermore, it must be understood that most of the material printed in past years, and much that is being printed today, is not available on the Internet, and will never be digitized. Thus repositories will continue to be necessary to provide access to information for the serious researcher.
There is much more reason to believe that printed material will continue to be available than there is to believe that much of what is electronic will endure over time, though libraries are digitizing out-of-copyright materials, and seeking permission to archive and preserve copyrighted electronic information. Publishers have little commitment to long-term preservation. As information ages and becomes less commercially interesting, publishers may simply stop maintaining it electronically. Ironically, traditional libraries may become the only place to find today's electronic information, assuming that we can obtain the legal right to maintain and archive it.
Access Without Legal or Financial Restriction
Maintenance of print and electronic collections within libraries assures the traditional unlimited access that our students and faculty have come to expect, and that is critical to the open and free exchange of ideas and the growth of knowledge. The traditional paradigm, which we could summarize as "buy once—use many," can operate, to the extent allowed by law, in the traditional library environment. The new commercial paradigm, in which publishers control and charge for each use, as well as for such things as downloading and printing, is inimical to the shared values of academia, and very difficult to support financially.
Libraries not only facilitate research; they also save considerable money for their users and overall institutions by offering a future of free, unlimited access to materials already purchased, at least in print. Publishers, on the other hand, now control access to their proprietary electronic resources, and intend to charge continually for this access.
Facilitation of Access
Everyone knows that librarians and other library staff provide reference service and other traditional services, such as ordering items, paying for them, cataloging them, and physically maintaining them. Not as well known, however, is that this work extends to electronic resources as well. Librarians do extensive work to make electronic resources available, without the need for individuals to enter complex access information or pay fees (which the library has already paid on their behalf). Library staff are digitizing materials to be placed on electronic reserve, and doing other things that extend the "place" to people's homes and offices. Moreover, librarians are now joining with Information Technology staff, sometimes at common service desks, to provide assistance with technical problems and services such as Blackboard. This "Information Commons" concept is one way in which libraries are continuing to evolve within their current physical structures. The library is increasingly becoming the center for campus information needs, as the duality between computing and libraries continues to diminish.
Research and Study
The most obvious function of a traditional library building is to facilitate research, but facilitation of "study" is another continuing need regardless of circumstances, and its value should not be downplayed. On traditional campuses, dormitories are often noisy and distracting; on commuter campuses, students often live in equally distracting circumstances that include young children, making sustained concentration impossible. Those who wish to study individually find a haven in library buildings; those who wish to study in groups find the atmosphere especially conducive to such work, and the creation of collaborative, group-study settings is an increasingly prevalent feature of new library construction.
Coffee Bars and Community
The simple fact is that students prefer to study and interact with each other in libraries, more than in any other setting. To use a personal case in point, students on my campus recently lobbied me successfully for longer hours, a campaign that began by conducting an electronic poll which asked a single question: "Would you prefer to have the library open 24 hours a day, or just to 3:00 a.m.?" Despite my protestations about the loaded nature of the question, their orientation is clear: they want access to a physical library, at all hours, despite the fact that we have an extensive collection of electronic resources available to them from off campus. The quality of resources, intellectual life, and personal satisfaction are better for them in libraries than they are at a distance from them. The ultimate proof of their commitment (on my campus) is the donation of $1,010,000 in student funds for an all-night study floor in our forthcoming library addition.
Partnership in the Learning Process
Libraries are evolving to add new dimensions that enhance the academic communities in which they exist, by facilitating the process of learning in a variety of ways. As society changes, and as old ways no longer work, new ways will be found and libraries will continue to evolve. Comfortable surroundings, relaxation of eating and drinking restrictions, creation of noisy zones as well as quiet zones, creation of collaborative spaces — these are all attempts to evolve with the times, to allow students and faculty to make buildings their own, and use them in ways that are comfortable. We need to see libraries as valuable resources, and reengineer them as necessary, as we see how people want to use the physical facilities and make the best use of information resources.
Deanna Marcum has stated her vision for the future of academic libraries as one in which "the librarian's role becomes one of teacher, one of coach, and one of information technologist."4 Mary Reichel has further stated that
I don't believe that a learning community environment can be successful if there isn't collaborative learning in a shared physical space. What we see in new academic library buildings—computer work stations geared to more than one person using a computer—is one example of how libraries build a learning community environment. Another example is group study rooms. Faculty members in many disciplines are making more group assignments, and group study rooms are invaluable to facilitate those groups and their work.
In order for academic institutions to be truly successful as learning communities, rather than simply as commercial centers where people quickly come and go, giving or taking classes and promptly leaving, institutions need spaces such as libraries, staffed with professionals who can help people with their intellectual inquiries. Instead of wishing for the day when libraries can be phased out to save money (and in truth, most of the cost would still remain in any case for schools serious about providing published information, either traditional or electronic, and helping people to use it), administrators would instead be well advised to look for ways to encourage and enhance the development of their libraries as integral parts of the learning process. If libraries are doing their job, academic administrators can then market the value added which such facilities give to their institutions.
Recommended Book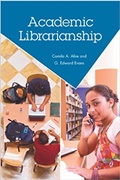 Academic Librarianship is a comprehensive book by authors with extensive experience in academic libraries. In it they look beyond management in libraries, since many texts and courses cover this aspect, and focus instead on the academic library environment as a whole... With plenty of information packed into the pages, this book is a must-read for anyone working in an academic library.
We are part of PLA